The amount of industrial wastewater in our country is increasing. Printing and dyeing wastewater accounts for about 10% of the total wastewater. The characteristics of wastewater are also very significant.
About 600 to 700 million tons of printing and dyeing wastewater are discharged into the water environment every year. Due to different fiber raw materials, product varieties, processing techniques and processing methods, the composition and properties of wastewater vary greatly. Commonly used fiber materials include cotton, wool, silk, hemp, polyester, acrylic, vinylon and viscose fibers.
The four major components of printing and dyeing wastewater are: 1. Rinse. Bleaching is the process of singing, desizing, scouring and other processes to remove the slurry on the gray fabric and the oil, wax, pectin and other substances that affect dyeing on the gray fabric, and then go through the processes of bleaching and mercerizing. The grey fabric is processed into bleached semi-finished products. 2. Dyeing. Dyeing is based on bleaching semi-finished products, using different dyes and auxiliaries for dyeing. 3. Printing. Printing is the use of dyes or paint to print patterns or patterns on the fabric. 4. Finishing. When finishing, the dyed or printed fabric is shaped and softened, and finally it is delivered as a finished product. Slurry decomposition products, surfactants, oils, waste dyes, waste chemical agents, waste alkali, sodium hydroxide, sodium sulfate, PVA, CMC. The resulting Printing and dyeing wastewater treatment effect will also change as a result.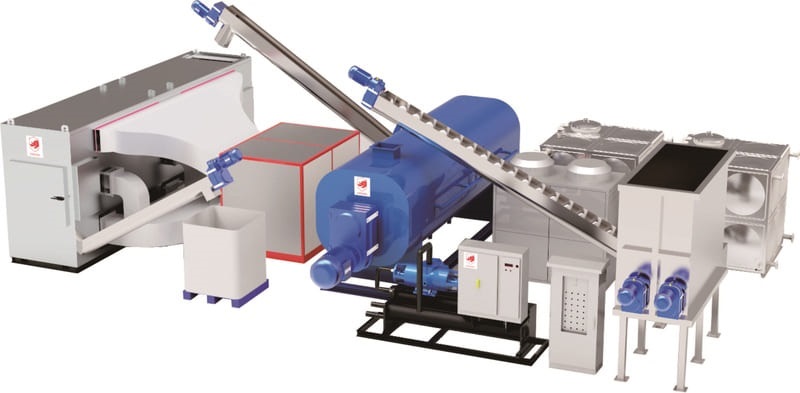 According to the analysis of Characteristics of wastewater: the characteristics of water quality are quite different. Desizing wastewater: Desizing is the use of chemicals to remove the pulp on the fabric (decomposed into water-soluble decomposition products by hydrolysis or enzymes), and also remove some impurities in the fiber itself. Desizing wastewater is organic wastewater, which is light yellow and contains pulp decomposition products, fiber chips, enzymes, etc. The wastewater is alkaline, with a pH of about 12, and the content of COD and BOD accounts for about 45% of the printing and dyeing wastewater. When using PVA or CMC chemical slurry, the BOD of the wastewater decreases, but the COD is high, and the wastewater is more difficult to treat.
PVA slurry is one of the main reasons for the poor printing and dyeing wastewater treatment effect. Scouring wastewater: Scouring is to use aqueous solutions of caustic soda and surfactants, under high temperature (120) and alkaline (pH=10~13) conditions, to simmer cotton fabrics to remove the oil and wax contained in the fiber Impurities such as quality, pectin, etc., to ensure the processing quality of bleaching, dyeing and finishing. The smelting wastewater has a large amount of water, high water temperature, dark brown and strong alkaline (alkali concentration is about 0.3%).
Smelting wastewater contains cellulose, fruit acids, waxes, grease, alkalis, surfactants, nitrogen-containing compounds and other substances, and its BOD and COD values are high (thousands of milligrams per liter), and the concentration of pollutants is high. Bleaching wastewater: The bleaching process generally uses sodium hypochlorite, hydrogen peroxide, sodium chlorite and other oxidants to remove impurities on the surface and inside of the fiber. Bleaching wastewater is characterized by large water volume, low pollution, low BOD and COD, and is relatively clean wastewater, which can be directly discharged or recycled after treatment. Printing and dyeing wastewater treatment effect will change.
Jiangsu Kintep Environmental Protection Co., Ltd.'s sludge dewatering machine has created a good experience for customers. If you have any needs, you are welcome to come and purchase!
Tags: Characteristics of wastewater, Printing and dyeing wastewater treatment effect
Related Recommendations
Low Temperature Sludge Dryer System
Screw Sludge Dewatering Machine
Eight key points of operating Screw Sludge Dewatering Machine