Screw Sludge Dewatering Machine is designed to handle a wide range of sludge, especially sludge containing high oil and fat which easily stick to dewatering parts. Excellent performance has been proved in but no limited to the following industries.
● Municipal sludges from WWTP, including aerobic and digested
● Slaughterhouse sludges from DAF
● Textile sludges, such as dyeing and painting
● Food processing wash-down biological sludges, including dairy, beer, beans etc.
● Oily wash-down, including oil tank, fuel tank, car wash
● Pharmacy waste
● Printing oily ink waste
Click Photos below to see application reference.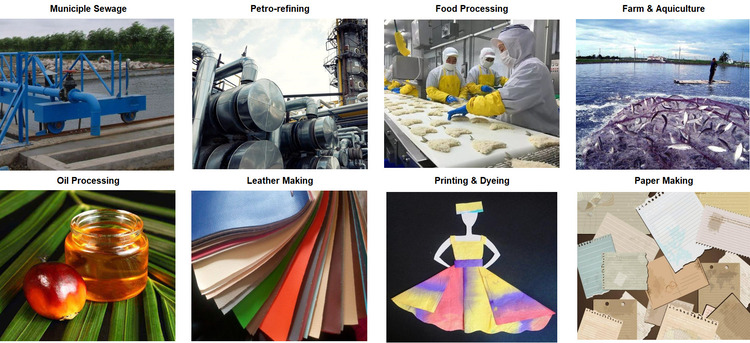 Technical Advantages

HOW THE SCREW PRESS WORK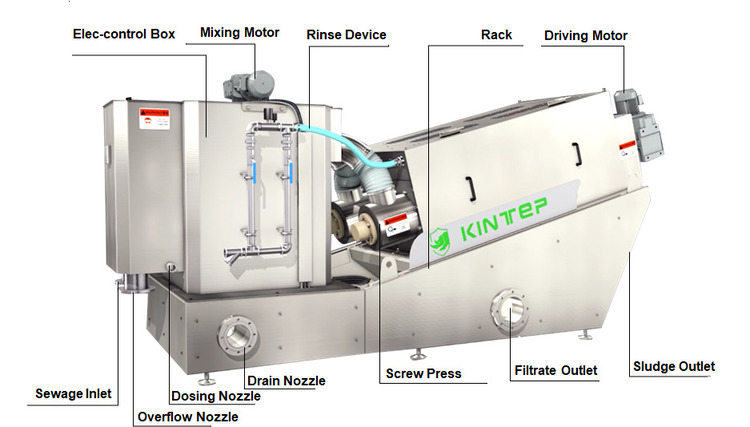 The sewage slurry feeds intomixing and flocculating tanks, withPAC/PAM added, flocculated to groups. Flocculated sludge flows intoscrew press, through the mutual movement ofscrew shaft, fixed rings,moving rings andbackplate, free water is pressed out to realize dewatering. In thickening zone, most of free water is separated, and then when sludge is pushed todewatering zone, gaps between screw shaft and rings become smaller, pressure increased, 2nd section separation completed. Separated water falls tocollecting base and dried mud cake falls from sludge outletfor transporting outside by truck or stored.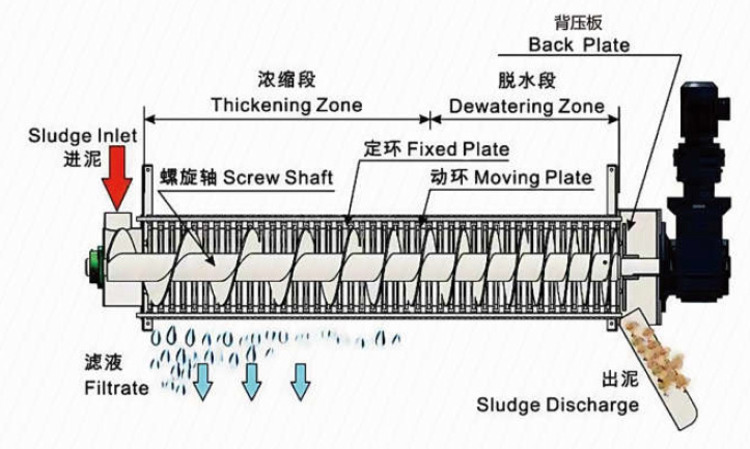 MODEL SELECTION
Model

Dried Solids Capacity (kg/h)

Suggested Sludge Feed Flow Rate (m3/h)

Low Concentration

High Concentration

10000mg/l

20000mg/l

25000mg/l

50000mg/l

KTDL131

5

10

0.50

0.50

0.40

0.20

KTDL132

10

20

1.00

1.00

0.80

0.40

KTDL251

15

30

1.50

1.50

1.20

0.60

KTDL252

30

60

3.00

3.00

2.40

1.20

KTDL301

30

60

3.00

3.00

2.40

1.20

KTDL302

60

120

6.00

6.00

4.80

2.40

KTDL303

90

180

9.00

9.00

7.20

3.60

KTDL351

50

100

5.00

5.00

4.00

2.00

KTDL352

100

200

10.00

10.00

8.00

4.00

KTDL353

150

300

15.00

15.00

12.00

6.00

KTDL401

80

160

8.00

8.00

6.40

3.20

KTDL402

160

320

16.00

16.00

12.80

6.40

KTDL403

240

480

24.00

24.00

19.20

9.60

KTDL404

320

640

32

32

25.6

12.8
ENERGY CONSUMPTION REFERENCE
Model

Power

Wash Water




Pressure

Wash Water




Qty

Maintenance




Frequency

Driving Motor

Mixing Motor

Total

KTDL131

0.18 * 1

0.18 * 1

0.36

> 2kg/cm2

43

10 min/day

KTDL132

0.18 * 2

0.18 * 1

0.54

86

KTDL251

0.55 * 1

0.37 * 1

0.92

58

KTDL252

0.55 * 2

0.37 * 1

1.47

116

KTDL301

0.75 * 1

0.55 * 1

1.3

93

KTDL302

0.75 * 2

0.55 * 1

2.05

186

KTDL303

0.75 * 3

0.75 * 1

3

279

KTDL304

0.75 * 4

0.75 * 1

3.75

372

KTDL351

1.1 * 1

0.75 * 1

1.85

126

KTDL352

1.1 * 2

0.75 * 1

2.95

252

KTDL353

1.1 * 3

1.1 * 1

4.4

378

KTDL354

1.1 * 4

1.5 * 1

5.9

504

KTDL401

1.5 * 1

1.5 * 1

3

115

KTDL402

1.5 * 2

1.5 * 1

4.5

230

KTDL403

1.5 * 3

1.5 * 2

7.5

345

KTDL404

1.5 * 4

1.5 * 2

9

460