In recent years, sludge treatment equipment is turning to the energy-saving, intelligent, high-efficiency and easy operation, so such asludge treatment equipment will become an indicator of the market. As there are still few companies providingit, a high demand is soaring.
KTGH series dry 80% moisture sludge to 10~30%, it realizes sludge volume reduction, stabilization, sterilization and reutilization. It is widely applied to dry sludge from various industries, such as municipal, printing, dyeing, papermaking, electroplating, pharmacy and leather production.
Advantages:
Comparing with other dehumidification system, it is with great advantages as follows:
HIGH EFFICIENCY
24-hour automatic continuous operation available
Sludge moisture reduced from 83% to 10~30%, output sludge moisture adjustable to sites
Sludge volume reduced up to 67~86%
Dehumidification achieves 1:4.2, double the industry standard
LOW OPERATION COST
Drying 1 MT sludge from 80% to 30%, electricity required is as low as 180Kw`h
Output sludge<50°C, no need for extra cooling process
Automatic running, few manual operations is required, less labor cost
Modular design, less construction cost required
RISK REMOVE
Desiccation temperature at 40~75°C, whole cycle finished in the closed cabinet, reduce risk of getting burned
Sludge moves in relative stationary mode, no risk of dust or explosion
Outlet sludge around 50°C
ENVIRONMENTAL-FRIENDLY
All cycle finished in the closed cabinet, very less odor emission
The separated moisture turns to clear condensate, less further water process required
Dried sludge in grain or strips, less dust scattered to surroundings
Best Sludge Reduction Solution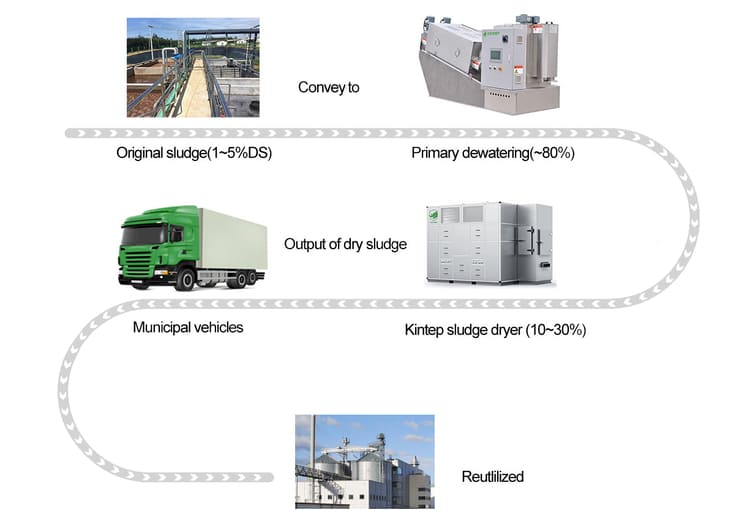 Work Principle:
By using the dehumidification mechanism of low-temperature heat pump, wet sludge on net strip is dehydrated and decremented by way of convective hot air drying. As this is a complete cycle in closed design, there is no waste heat and free from thermal loss.
Working process: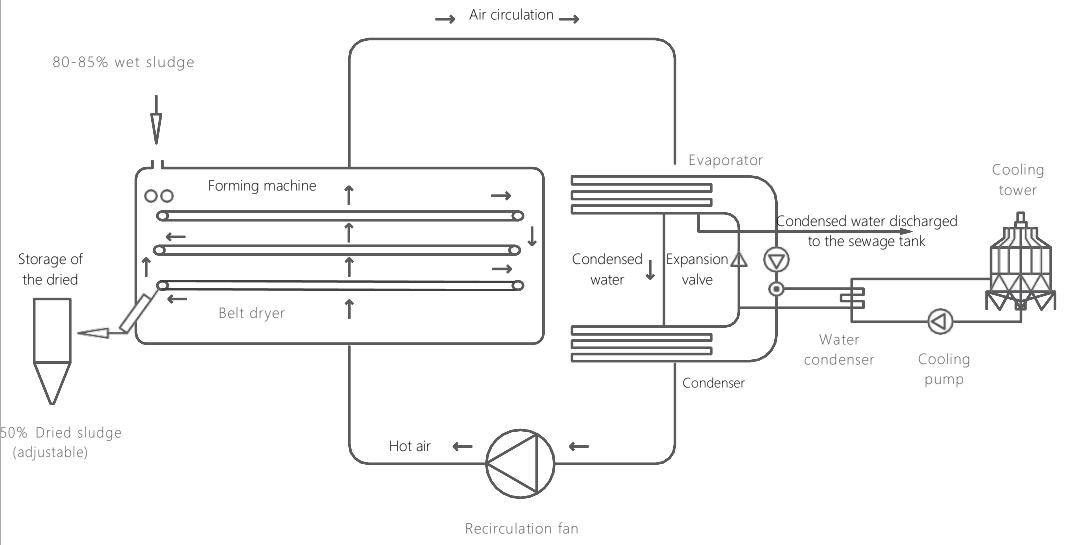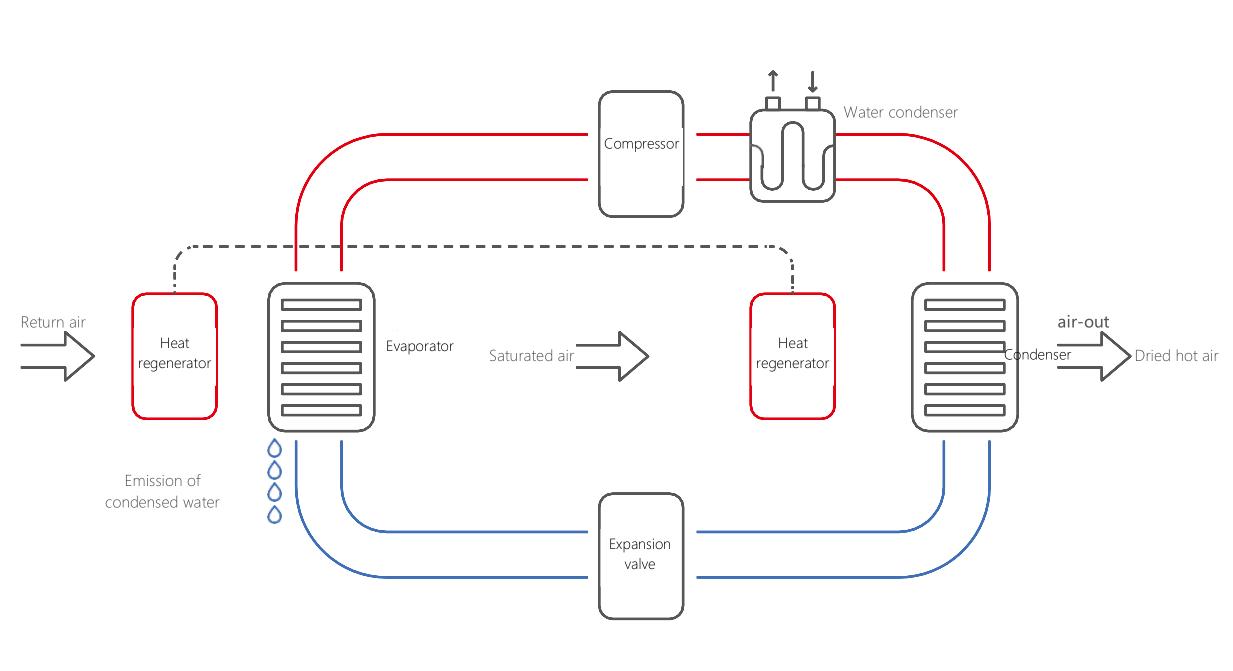 Model Selection:
Model

KTGH-1200MK

KTGH-2400MK

KTGH-4800MK

KTGH-9600MK

KTGH-14400MK

KTGH-19200MK

KTGH-24000MK

KTGH-28800MK

KTGH-33600MK

Standard Dehydration(kg)/24h

1200

2400

4800

9600

14400

19200

24000

28800

33600

Power

16.8

32.5

63

126

189

252

315

378

441

Heat Pump Module

1

1

1

2

3

4

5

6

7

Compressor

2

4

4

8

12

16

20

24

28

Cooling system

Air Cooling

Refrigerant

R134a

Power Supply

(220V/380V/440V)/3H/50Hz(60Hz)

Max. temperature




of air output

40-50℃(air return)/60-65℃(air blow out)

Control system

Touch screen (Siemens) + PLC (Siemens) + electric components (schneider)

Applicable wet




sludge

65%-85%

Moisture content of




the dried sludge

≥10%

Shaping method

Slivering (60%-83%)

Size (mm)

3200X2400X2870

4700X2400X2940

5150X3115X3125

8370X3115X3125

11590X3115X3125

14810X3115X3125

18030X3115X3125

21250X3115X3125

24470X3115X3125

Framework type

Modular Assembly

Weight

1.6T

2.5T

5T

7.5T

10T

13T

17.5T

22T

25.5T